At National Scoliosis Center we are dedicated to keeping current on the latest innovations in Scoliosis treatment. One of the ways we accomplish this is by connecting with colleagues around the world to exchange ideas and share current research findings. Collaboration among specialists is crucial to our ability to provide the best care for our patients. To that end, members of our orthotist team attended the 2022 SOSORT International Congress conference during the first week of May.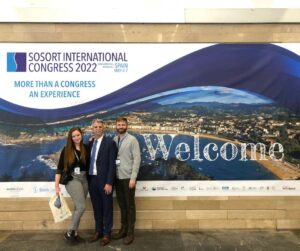 SOSORT (International Society on Scoliosis Orthopaedic and Rehabilitation Treatment) is dedicated to the advancement of the non-operative management of idiopathic scoliosis and other structural spine changes. The society was formed to meet specific needs within the scoliosis community by connecting professionals and promoting the exchange of knowledge and ideas in the field of conservative management of scoliosis and spine structural changes. through the sharing of new techniques and research developments. The annual meeting focuses on the latest research in the non-operative management of scoliosis and is incredibly valuable to the continuing education of our staff members. 
For the past two years, the annual meetings have been held virtually, making this year's particularly special as the participants were able to attend the conference in person again. This year specialists from over 30 countries convened in San Sebastian, Spain. 
"I've been coming to SORSORT for years and had missed not meeting in person for the past two years. It was nice to share ideas and hear about the latest research from colleagues who have dedicated their careers to helping those with scoliosis," said Kristian Christensen, Certified Prosthetist Orthotist at National Scoliosis Center. 
Our team had the opportunity to attend presentations by speakers from around the globe including professionals from Canada, Australia, the United States, and Europe. Numerous topics related to Adolescent Idiopathic Scoliosis (AIS), Adult Spinal Deformity (ASD), and other spinal deformities were discussed over the three days. In addition, Luke Stikeleather, our Chief Orthotist, Founder, and President, was one of the moderators.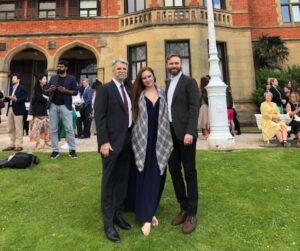 SOSORT's guests were able to attend sessions on the clinical assessments of spinal disease, psychological aspects of these conditions, and findings on the most effective treatment plans. In addition, attendees were offered amazing opportunities to explore San Sebastian during their free time. Several activities were planned to make this a once-in-a-lifetime experience. Guests were invited to participate in excursions to the coast, visits to local wineries, a Basque Country tour, and a Gala dinner. 
"It was so great to finally shake hands with the world's leaders in scoliosis research," said Orthotist Assistant Christen McAree. "Getting to connect with others who are just as passionate about non-operative treatment of scoliosis as us was the highlight of the trip." 
Our team considers connection and collaboration – whether between our patients and staff or among our professional colleagues – to be a high priority. SOSORT offered our staff members invaluable information and we look forward to sharing the knowledge we gained from this conference with our patients and their families as we continue to offer the best care we possibly can.