Mark Holowka, MSPO, CPO, FAAOP recently visited us from Children's Healthcare of Atlanta – one of our scoliosis bracing partners. During his week here with us, we worked with Mark by collaborating and exchanging ideas so we can all better serve scoliosis patients.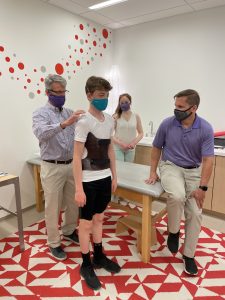 Mark says, "the collaboration [with National Scoliosis Center] is incredibly valuable. I like how National Scoliosis Center can actively involve the patient in creating their brace and I can see how adding artistic nuances helps with patient compliance."
We appreciate the knowledge Mark has brought to our orthotic team regarding more efficient digital techniques for creating a custom brace. We look forward to working with him again in the future.
Children's is one of the largest pediatric providers in the country and treats the largest volume of scoliosis patients in the country. Curious as to why? Georgia has a strong scoliosis screening program, allowing for early intervention in scoliosis treatment. Many populations no longer have access to a scoliosis screening program, which is why we encourage parents to advocate for their children and check for scoliosis regularly.