We are pleased to announce that one of our orthotic assistants, Brooke Merryman, will be starting the Orthotics and Prosthetics Master's Program offered by the International Institute of Orthotics and Prosthetics in Tampa, Florida in January 2022.
Brooke graduated from Virginia Tech with a major in mechanical engineering and a minor in biomedical engineering. While pursuing an engineering degree she started to develop an interest in orthotics and prosthetics. For her senior design project, she worked on a prosthetic knee for a nonprofit clinic in Peru. She also went on a service trip to Honduras with another nonprofit group called Hope to Walk which makes prosthetic legs more affordable by providing free fittings for their patients.
As graduation approached, she knew she had a few months off prior to starting a Christian leadership development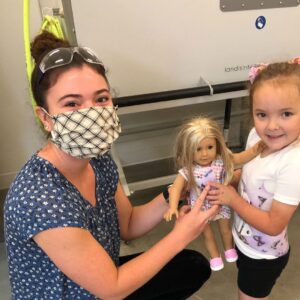 program in Roanoke, VA. Someone in her church connected her with Luke Stikeleather (Founder and President of National Scoliosis Center), and he offered her an internship. The work she did with National Scoliosis Center (NSC) fueled her interest in orthotics and prosthetics, as well as her compassion for others. She enjoyed the clinical and hands-on aspect of orthotics so much that following completion of her ministry program she joined NSC full time. We will be sad to see her go later this year, but we are happy that her time with us helped her find the career path she would like to pursue.
When asked about her experience with NSC Brooke said, "This is one of the best work environments I've ever experienced. Everyone gets along really well, and the communication is great. The entire staff cares about the work that they do, about each other, and about the patients. Everyone is always willing to lend a hand and work extra hours if needed. It really shows that they care about making a good brace and serving the patients. I am proud to be a part of a group with these kinds of values."