Earlier this month our orthotist team attended the annual meeting of the International Society on Scoliosis Orthopaedic and Rehabilitation Treatment (SOSORT). SOSORT is a non-profit organization focused on the advancement of non-operative management of idiopathic scoliosis and other structural spine changes. The organization believes that prevention and conservative management of scoliosis can be effective, efficient, and valuable. SOSORT also promotes the exchange of knowledge and ideas in the conservative management of scoliosis. Participation in the annual meeting was significant to our orthotists for two primary reasons – connection and transition.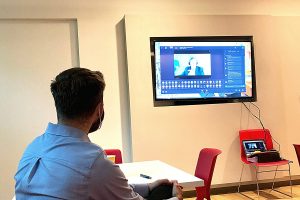 Despite the necessity to meet virtually this year, it was invaluable for our team to re-connect with international colleagues. The opportunity to share ideas and collaborate with others in the field is vital to providing the most current treatment methods to scoliosis patients around the world. Information on current research was shared or updated over the course of the meeting. Our team will review many of the topics presented to determine how they might be incorporated into the care we provide.
Kristian, one of our Certified Orthotists, said, "It is extremely rewarding to collaborate with such esteemed colleagues. Working together makes us all better providers."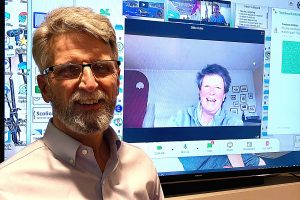 Second, the meeting marked the start of a bittersweet transition for Luke Stikeleather, Founder, President, and Chief Orthotist of National Scoliosis Center. For the past eight years, Luke has been actively involved with SOSORT, serving both on the Board of Directors and Trustees, and as President. During his tenure, he provided great leadership, networking, education, and was able to secure the non-profit registration for SOSORT. This year Luke will join the Advisory Board made up of fellow past SOSORT Presidents.
We are looking forward to the 2022 meeting in San Sebastian, Spain when we can reunite in person with members of the SOSORT community.