"What to wear" is one of most daunting challenges associated with wearing a brace for teens and young girls diagnosed with scoliosis. Luckily, as we move into the cooler months of fall, fashion choices become easier to navigate. The possibilities for diverse styles that can adequately cover the brace are more widely available.
Here's a look at some great options for fall that will not only work well with your brace, but will allow you to show off your individuality with a variety of different looks this season.
High Waist Jeans
Many of us are still sweltering in the summer heat, but before we know it, we'll be pulling out the denim. The great news for girls wearing braces is that high-waisted jeans are still the trend. A high waist can be secured under the brace whereas lower waist jeans get caught on the edge. The best idea is to stick with those pairs with a smoother silhouette staying away from too many buckles, pockets, and buttons. One tip from a former patient, Taylor Ryder, is to cut the loops off the jeans for a more comfortable fit.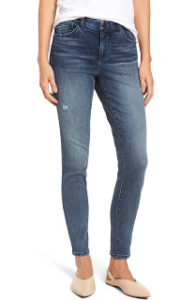 Wit and Wisdom jeans are a high quality stretchy denim at a fairly reasonable price. These skinny ankle jeans come in dark to light washes and are some of the most comfortable jeans around.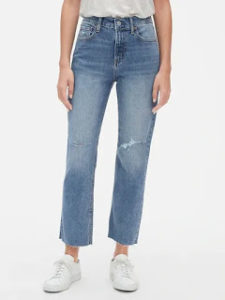 These High Rise Distressed Jeans from Gap are a great casual jean. Cropped at the ankle with a frayed hem, they would pair perfectly with your favorite plaid button down and slip-on sneakers.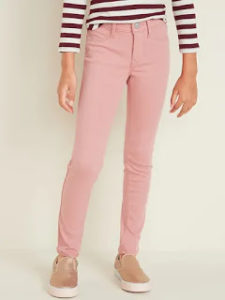 Colored denim is always a hit and these Ballerina Pop-Color 24/7 Jeggings would be an adorable pick for younger girls. They come in six amazing color choices and work great with a brace.
Leggings
Leggings are a girl's best friend when it comes to fall fashion. They are so versatile and can be dressed up or down. Again, look for a high waist that will stay put under your brace. Choose solid black for a more streamlined look or check out funky patterns and bright hues for a fun pop of color with a solid tee or tunic.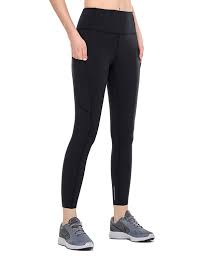 These CRZ Yoga leggings from Amazon are a great choice for athletes. They come in a multitude of colors and have side pockets for carrying keys or a phone.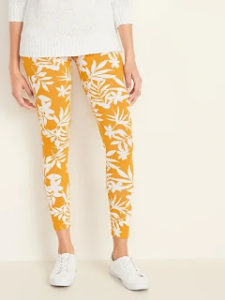 To really show off your individual style, try a pair of these bold patterned leggings from Old Navy.
Tunic Tees and Shirts
Long tunic tees made with breathable, stretchy fabric are great for concealing a brace and can be paired with jeans or leggings.
This Longsleeve Henley from Aaerie is cozy, long, and loose enough to wear comfortably over a brace. Any of the six available colors would work great with solid or patterned leggings for a casual weekend look.
Everyone loves a great plaid button down in the fall. Old Navy's Patterned Twill Tunic Shirt comes in four different plaid color combinations and is long enough to wear over leggings. Pair it with your favorite fall boots and you're all set for a crisp autumn day.
Comfy Sweatshirts
What is the best part of Fall? Football season? Colorful leaves? Pumpkin Spice Lattes?
Nope! When a chill is in the air, it's pulling on a soft, oversized, cozy sweatshirt.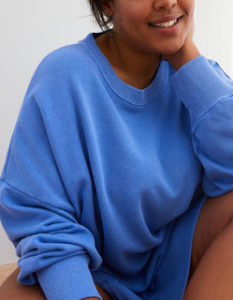 The Aaerie Desert sweatshirt comes in more colors and patterns than you can count and has a bunch of 5 star reviews. It has side slits and is oversized for extra comfort.
For younger girls, this Slash Sleeve Hoodie from Justice comes in two different colors and will be warm and comfortable for the cooler fall weather. It has some fun details including a foil graphic and cut-outs on the sleeves.
Swing Dresses
A swing dress can be a great option for girls wearing a brace as it keeps an A-line shape but flows out above the waist so as not to be too constrictive. Swing dresses are available in both casual and more formal styles from retailers at every price point.
These Jersey Knit Swing Dresses from Old Navy are reasonably priced and come in a variety of patterns and colors. The 3/4 length sleeve is perfect for fall as the weather gets cooler.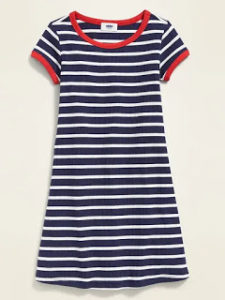 For younger girls, Old Navy also carries this striped swing dress which is awesome for back-to-school. It comes in three different color combinations including this navy, a multi-color stripe, and a bright sunny yellow.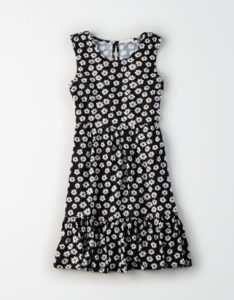 This adorable Baby Doll Dress from American Eagle with a cute daisy print would be a great piece that would transition from early to late fall. With warmer weather it could be worn with sandals and bare legs. Add a denim jacket and leggings and wear it straight into the cooler months.
Soft Undergarments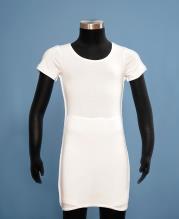 Last but not least, Embraced in Comfort offers amazing undergarments for scoliosis patients including this super soft tee. Girls can choose bike shorts, t-shirts, tanks, and body suits to wear under their braces. These are wonderful options to promote comfort and prevent chafing. To find a multitude of choices visit embracedincomfort.com.
For patients diagnosed with scoliosis the list of initial anxieties is long. Fears about fashion choices do not have to be on that list. Especially in the Fall, young ladies should have no problem finding fabulous pieces that will cover the brace and make them feel just as stylish as their peers. Time to grab that Pumpkin spice latte and get shopping! Happy Fall!