Perhaps your child shows his or her true spirit on the soccer or lacrosse field, or hockey rink. Or, maybe your daughter lights up the stage in pointe shoes and a tutu. It may be that your child simply enjoys a game of pickup basketball or street hockey to release pent-up energy following a day at school. Whatever your situation, as a parent, you likely believe that sports and other activities are an important part of childhood and facilitate the development of life skills such as teamwork, fitness, social interaction, and leadership.
Your child has been diagnosed with scoliosis and the treatment plan includes bracing. While your child may not aspire to be an Olympian or professional athlete, you do want them to continue pursuing their current passions, whether those include soccer, dance, lacrosse, or some other sport. The issue of whether your child can continue to engage in these physical activities while undergoing scoliosis treatment with a scoliosis back brace is a real and vital concern for you.
Fortunately, scoliosis patients whose treatment includes bracing are able to participate in physical activities, including sports. We, at National Scoliosis Center, want your child to participate and do all the things that he or she did prior to being prescribed a brace—it's important that they run, jump, and play and have the same quality of life.
 Experts in the field of scoliosis treatment agree.
The National Institutes of Health stresses the importance exercise, sports, and physical fitness are for strength and a sense of well-being for those with scoliosis. They particularly emphasize weight-bearing exercise as beneficial to bone strength. (National Institutes of Health)
Strong core muscles from exercise and sports are beneficial to your back, according to the Scoliosis Research Society, an international organization of the world's leading spine surgeons, researchers, physician assistants, and orthotists who are involved in the research and treatment of spinal deformities. (Scoliosis Research Society)
Experts at the National Scoliosis Foundation, a patient-led nonprofit organization with a mission to assist those with scoliosis and other spinal deformities, point out that, "…many studies show that after an initial adjustment period, youngsters who are braced live very normal lives, engaging in appropriate activities, including sports, and that they have good psychosocial adjustment." (National Scoliosis Foundation)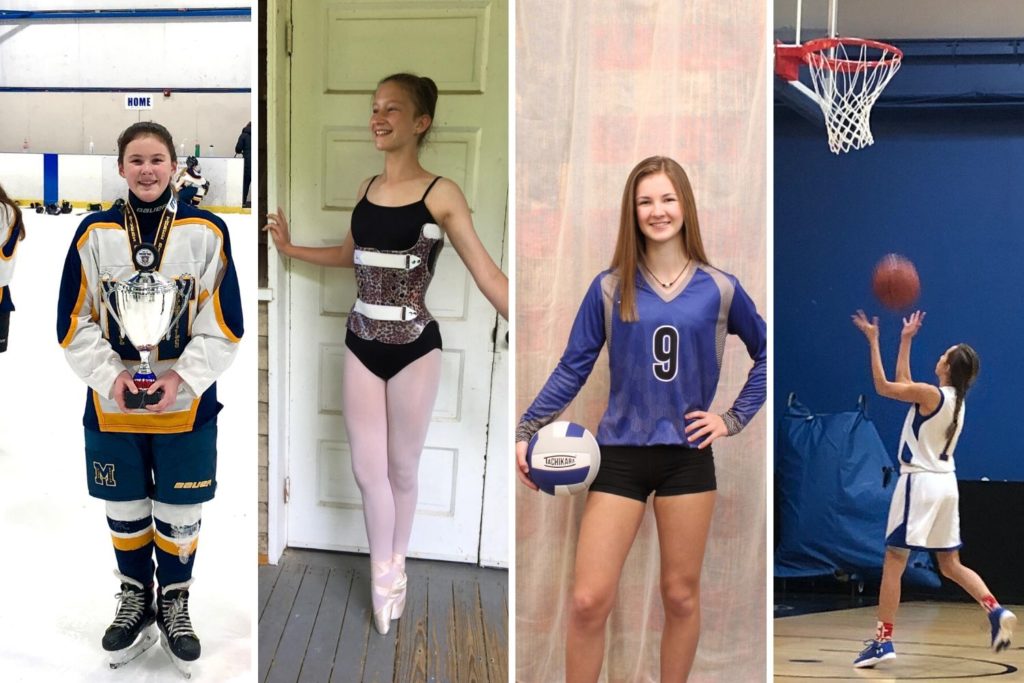 Professional and Olympic sports provide us with some extremely encouraging examples of athletes who excelled despite battling scoliosis.
Experts in the field of scoliosis treatment and real-life success stories provide encouragement for parents of scoliosis patients who wish for their children to continue playing sports during and after treatment. That being said, each patient is unique and should adhere to the treatment and restrictions advised by the team of practitioners. We do caution against certain movements such as extreme flexion, extensions, side bending, and twisting. Otherwise, you can rest at ease—your child will likely be able to pursue athletic activities while being treated for scoliosis with back bracing.