Megan Miller's journey through scoliosis treatment started when she was only five years old. Her mother noticed a large bulge near the top of Megan's shoulder blade when she was sitting behind her daughter as they watched a children's program at a nature center. Alarmed and confused, she immediately made arrangements to seek medical attention.
Megan's pediatrician sent her for X-rays which showed thoracolumbar scoliosis with a curve measuring 46 degrees. Doctors ordered an MRI which determined Megan also had a Type 1 Chiari Malformation with a fluid-filled cyst, referred to as a holocord syrinx. The Chiari Malformation is a structural defect of the brain where the cerebellum protrudes out of the skull often putting pressure on the spine (Conquer Chiari, 2012). The condition occasionally presents in young children whose skeletons are not fully developed and, in some cases, leads to scoliosis (Mayo Clinic, 2019).
The Millers quickly consulted a neurosurgeon for treatment of the Chiari Malformation. He performed a suboccipital decompression and C1 laminectomy, but fortunately,  the intraoperative ultrasound indicated there was no need to open the dura.
Unfortunately, her next X-rays revealed that Megan's Chiari Malformation had already had an impact on her spine and her curve had increased to 50 degrees. It was recommended that the Millers consult Luke Stikeleather, Chief Orthotist at National Scoliosis Center. By the time the family met Luke, Megan's curve had worsened further, so he quickly determined that she should be fitted for a Rigo Cheneau brace.
Mrs. Miller recalls how brave Megan was, despite her young age. She also credits the kind staff with helping her daughter's confidence and comfort throughout her treatment.
"Luke and his team really saw Megan. They didn't speak to her through me. They were calm and gentle with her and treated her with respect," she says.
Even twelve years later, Megan remembers that while some of the medical offices she visited were stressful and scary, the opposite was true of National Scoliosis Center.
"The office is bright and cheery. From the beginning everyone there was so nice and welcoming. The staff walked me through everything," she says.
Mrs. Miller admires the dedication that Luke had to her daughter's specific treatment. She recalls that as the family was leaving for a beach vacation Luke called them personally to explain the importance of starting Megan in her brace. He met them after business hours at the center as they pulled in with the car packed with the whole family, including the family dog. His calm demeanor and friendly personality were appreciated as he created a mold of Megan's torso out of Plaster of Paris (Special note: Today, Plaster of Paris is no longer used. Instead, state-of-the-art scanning technology is used to design and create custom Rigo Cheneau braces).
"He took the time to make a special appointment at 7 pm that evening, before we left for our vacation, so that her brace could be made while we were away — he did not want to delay treatment and we trusted his judgment. Luke is really committed to serving his patients' individual needs."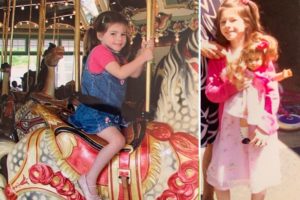 Over the years as Megan continued to grow, she was fitted for a number of different braces. Consistently, Luke took great care to adjust each brace to make it comfortable for her, always including her in the details of its construction.
"Luke would make me feel excited about the process of creating my brace. I got to pick out the colors and patterns. He really listened and never rushed me. I bet he put a million little holes in it when I complained that I needed to scratch my back!" Megan laughs. "When I was little, he even made a brace for my American Girl doll. I was never really embarrassed or ashamed of my brace in school. In fact, all the rest of the kindergartners wanted to wear a brace as well. They thought it was my 'armor'."
Megan's journey to success was most certainly a long one. During her elementary school years, she wore her brace for about 21 hours per day. As she grew older, she had progressed enough that only nighttime wear was needed. Still, she never felt limited by her scoliosis. Megan played lacrosse and participated in cheerleading throughout her treatment. Now a high school junior, she commits her time to competitive dance. Her most recent X-rays indicate that her curve is at 21 degrees which is exactly what it was when she stopped treatment a year ago.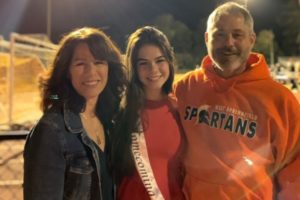 Megan is grateful that her family made the decision to come to National Scoliosis Center all those years ago. Her advice to new patients… "Wear long brace t-shirts and most importantly, trust everything Luke says!"
-Written in Collaboration with Megan Miller and her Mother