My daughter, Elle, was just over six months old and sitting up in her diaper when I noticed that something was off. A large curving bulge protruded from the left half of her back. Something was definitely wrong. Her dad and I were terrified. Was it some kind of swelling? A strange growth? A dangerous tumor? While we had heard of the condition, scoliosis never entered our minds that evening. We quickly set up an appointment with our pediatrician. On January 9, 2019, Elle's doctor recommended that we take her to an orthopedist.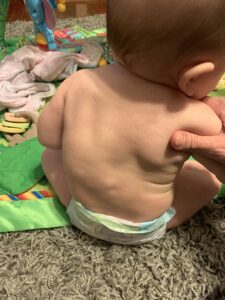 We weren't able to get an appointment until March. By that time, X-rays showed that Elle's curve was at 38 degrees. At the recommendation of the orthopedist, our next stop was a local brace maker who created a TLSO brace for Elle. The experience with this particular brace was terribly challenging. The brace was so confining that Elle couldn't sit in it. She couldn't eat in it. Each time I put her into the brace, she just lay there and cried. My heart was breaking. This was not working.
Quickly, I set out to learn as much as I could about scoliosis. I was determined to find a better solution for my little girl. After hours of research, I came across Dr. Paul Sponseller at Johns Hopkins in Baltimore, Maryland. We packed up the whole family – including Elle's sister and grandparents – and made the 4-hour trip from our home in Richmond.
On October 9, 2019, Elle underwent her first standing X-ray in Dr. Sponseller's office. I was devastated when the X-ray showed that Elle's spinal curve had progressed to 72.8 degrees. We were advised to start Mehta casting immediately. Just a few weeks later, Elle went into her first cast. While it was an adjustment, we were so proud of our strong girl. She didn't miss a beat; continuing to run, play, and climb as she always had.
After an 8-month period with a series of three Mehta casts, Elle's curve had reduced significantly to 42.8 degrees. At that point, Dr. Sponseller recommended we meet with Luke Stikeleather at National Scoliosis Center to have her fitted for a brace.
Due to our prior experience, I was nervous to go back to bracing, but from the moment we walked into National Scoliosis Center in June of 2020, I knew we were meant to be there. Luke and his team were so welcoming and warm. Elle was just shy of two years old when we first arrived, but everyone instantly eased her nerves. They interacted directly with her to be sure she felt comfortable and happy. We left that very first day with Elle's new Rigo Cheneau brace. We were dedicated to having Elle wear it for 23+ hours. From Day One it was like the brace was part of her. She didn't complain or cry. You honestly would never have known she was wearing a brace.
A year later, in October of 2020, Elle's X-ray showed a dramatic improvement. Her curve had gone from 42.8 degrees to 16.49 degrees. We were overwhelmed with joy! Elle continued to wear a brace for 23+ hours a day for the next year.
Today Elle's curve measures less than 10 degrees. Now going on 4 years old, she wears her brace only 12 hours a day. She loves going to her follow-up appointments to see Luke. She looks forward to getting into "noodle matches" with him! The team at National Scoliosis Center has been a true blessing to us.
To other parents facing this journey, I would advise this: Trust your gut and trust the process. You will always know what's best for your child. Also, remember that kids are so resilient. The truth is that it can be harder on the parents than the kids. The correct bracing truly works. If you are committed to wearing the brace, the results will come. Elle is living proof!
-Jenny Munro, Elle's mom
Featured Image Photo Credit: Tiffany Lucas