The holidays are approaching and online shopping carts are filling! It's always nice to give a gift that truly tells the recipient that they are "seen". Today we want to share some ideas that will help you assure your daughter or son that they are not alone as they navigate their scoliosis treatment. In addition, many of these products encourage patients to take pride in their unique journeys as they meet the challenges of scoliosis. Take a look!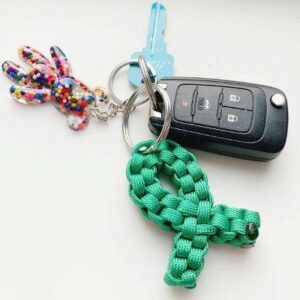 This bright green Scoliosis Awareness Key Chain would make a great stocking stuffer for your teen. It's only $12.00.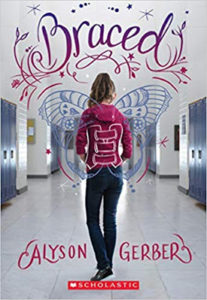 Book lovers know that when we are able to see ourselves in literature, we feel a greater sense of esteem and connection to the world around us. There are several fiction books centered on scoliosis that will help foster this in your child. Braced is a fictional story written by Alyson Gerber, a former scoliosis patient. It follows teenager Rachel Brooks as she navigates the stresses and excitement of a new school year, a first crush, and the challenges of wearing a brace 23 hours a day. Check out a list of other great books on scoliosis here.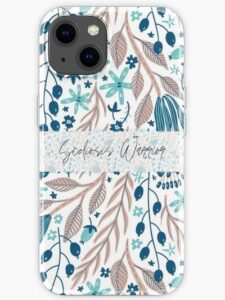 These days cell phones have become as much of an accessory as any bracelet or necklace. This Scoliosis Warrior phone case is designed with a beautiful print on a frosted shell surface. It is made to fit all iPhone 12 and 13 models.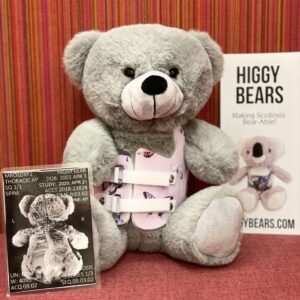 Higgy Bears are a tried and true favorite of our younger patients. These stuffed animals can be customized exactly as your child chooses. Pick your favorite animal: a bear, cat, elephant, or monkey. Then choose from a variety of patterns for the stuffed animal's brace. In addition, if your child already owns an 18-inch doll, she can choose a brace for her as well. Higgy Bears is a wonderful company that donates their stuffed animals to patients all over the country.

Another very special gift is the Spinal Cuff bracelet offered by the Heidi Lowe Gallery. Lowe partnered with our former patient, Kate Meszaros, to create this gorgeous curved silver cuff. With each purchase, $50 is donated to the National Scoliosis Foundation.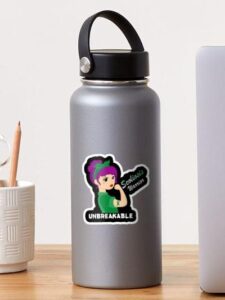 Another cute stocking stuffer is this Scoliosis Warrior Unbreakable Sticker. Kids love to decorate their laptops, water bottles, and notebooks. This fun, colorful sticker will declare that your teen is embracing the journey ahead.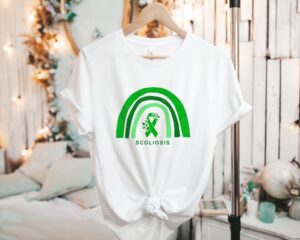 This is a cute graphic tee with a green rainbow along with the Scoliosis Awareness ribbon.  It would make a super cute gift to encourage your patient.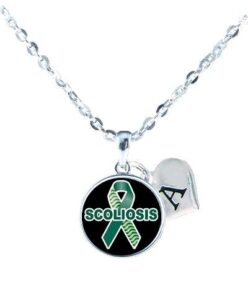 This necklace includes two charms – one containing an image of the scoliosis awareness ribbon and one silver heart which can be engraved with your daughter's initial.
Want more ideas? Be sure and check out our scoliosis books list and our recent fashion blog (for boys and girls).
Giving a special scoliosis-inspired gift this holiday to a patient will acknowledge the challenges he or she faces. It can go a long way to help your child feel special and supported. We wish all of our patients and their families a wonderful holiday season and a very happy new year.