For the most part, adolescence is a season of life for children to explore the unique qualities that make them special. It can be a confusing time, as pre-teens and teens are caught between wanting to fit in with their peers and yearning to express their individuality. Since scoliosis is most often diagnosed during these years, undergoing bracing treatment often adds to the stress of an already puzzling time.
Families can support scoliosis patients by encouraging them to embrace the challenges of their condition with pride and a sense of purpose. This holiday season there are several unique gifts that parents and friends can give to show that support. We have found some amazing retailers and organizations that offer a wide range of products just for these special patients.
Books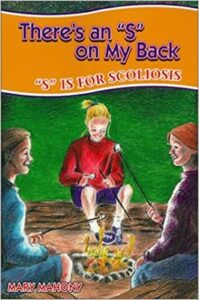 There's an S on my Back: S is for Scoliosis is a fiction book that follows the story of Maisey, a 5th grader who is diagnosed with scoliosis at a school screening. It follows her journey of learning to cope with the changes that wearing a brace brings to her daily life.
Braced, is a perfect gift for a tween/teen girl. Written by Alyson Gerber (who wore a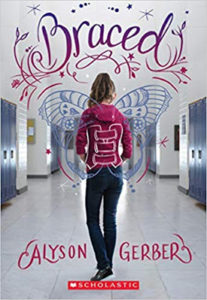 brace as a teen herself), this fictional story is about a teenager, Rachel, who starts a new school year excited for friendships, sports, and a new crush. She's devastated when she soon learns that the curve in her spine has worsened so that she will now have to wear a brace for 23 hours a day. Gerber shares insights into the physical and emotional challenges of scoliosis through Rachel's story.
My Brace Journal: Following the Curvy Path to Bracing Success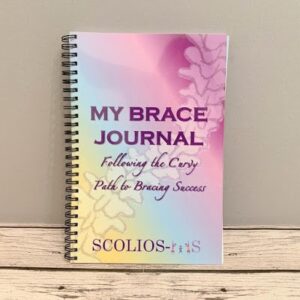 The Scolios-us Brace Journal is a wonderful gift for a patient. This is a 12-month journal that provides space for jotting down thoughts and feelings each day, tracking hours of brace-wear, and updating medical changes. There is even a stress questionnaire to help gauge brace-related stress. Journaling has proven psychological benefits, and this adorable journal will encourage your child to explore her feelings and monitor her successes throughout her treatment.
Masks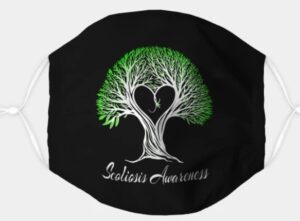 Most teens like to show off their support of their favorite causes by sporting a slogan on a t-shirt or a bumper sticker. The year 2020 has brought them a new way to make a statement.
This Scoliosis Awareness Green Ribbon Tree With Heart Mask helps spread awareness of scoliosis while keeping your kid safe when he or she is out in public.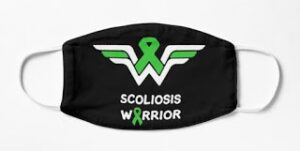 The Scoliosis Warrior Mask is printed with the signature green awareness ribbon and would be a perfect gift to show your support of the cause of scoliosis awareness.
Awareness Jewelry

One of our patients, Kate Meszaros teamed up with Heidi Lowe, owner of Heidi Lowe Gallery. to create the "Spinal Cuff", a beautifully-crafted curved silver bracelet that benefits the National Scoliosis Foundation. For each piece sold, Heidi donates $50 to the National Scoliosis Foundation.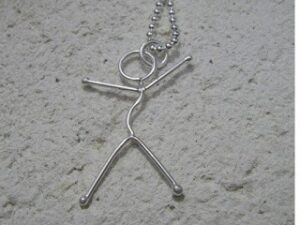 This adorable necklace is a great gift to urge your daughter to embrace her uniqueness and take pride in her scoliosis journey. The 1-inch stick figure pendant hangs on a 16-inch sterling silver chain and will become a special memento that will remind your child of the bravery and perseverance she showed during her treatment.

The Embrace the Journey bracelet isn't technically for Scoliosis Awareness, but the sentiment will definitely resonate with your child. It comes in a brass or silver-tone finish and three different sizes. The bangle bracelet is boxed with a sweet inspirational note to encourage your child to trust the process and embrace the journey.
Unbreakable Tee
This fun tee from Amazon will help empower your child while spreading awareness for scoliosis. It comes in both adult and youth sizes and four different colors including white, pink, blue, and grey.
Curvy Girls Gifts
Curvy Girls is an amazing organization started by scoliosis patient, Leah Stoltz, in 2006. Leah wanted to create a place where girls navigating their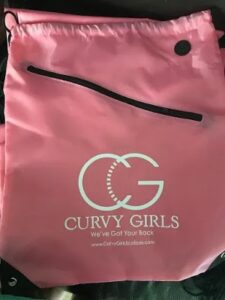 own scoliosis journeys could connect, gain support, and share tips and advice during treatment. Curvy Girls offers some wonderful resources and gifts for both patients and their families.
This drawstring bag comes in a vibrant pink and displays the Curvy Girls logo along with their motto: "We've Got Your Back".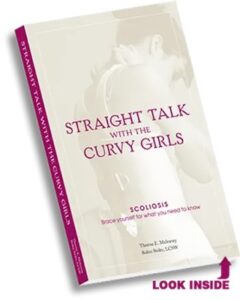 Straight Talk with the Curvy Girls is an amazing resource for girls (and their parents) when embarking on a scoliosis journey. The book includes the personal stories of nine patients, medical information, ways to prepare for appointments, and advice on making fashionable clothing choices while wearing a brace.
Higgy Bears Stuffed Animals
Higgy Bears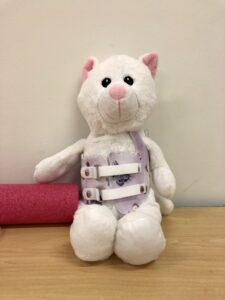 are stuffed animals who wear mini scoliosis braces. These would be a great comfort to your child as they begin treatment. Patients can create a custom doll by picking the type of brace and the fabric pattern for the brace. They then choose from any number of stuffed animals from dogs to cows to monkeys. Every Higgy Animal even comes with an "X-ray" of its back. Higgy Bears can also create a brace for your daughter's American Girl doll.
The challenges of scoliosis treatment can be daunting for patients and their parents. Giving a gift that helps to increase the patient's understanding of their condition will go a long way in alleviating fear and anxiety. It will also help assure them they will be supported and loved throughout their journey. As a bonus, many of them raise awareness for scoliosis. At National Scoliosis Center, we wish our patients and their families a safe and healthy holiday season.